I recently picked up H&Ks new 9mm striker-fired handgun the VP9. This is my first H&K firearm and I just thought I would give some details and initial thoughts on the firearm.
I purchased through an online vendor and had it shipped to my FFL for $599. I feel like the price tag on this handgun is great. Glock 17s run in the ball park of $540 so I felt spending the extra $60 for H&K quality was completely worth it.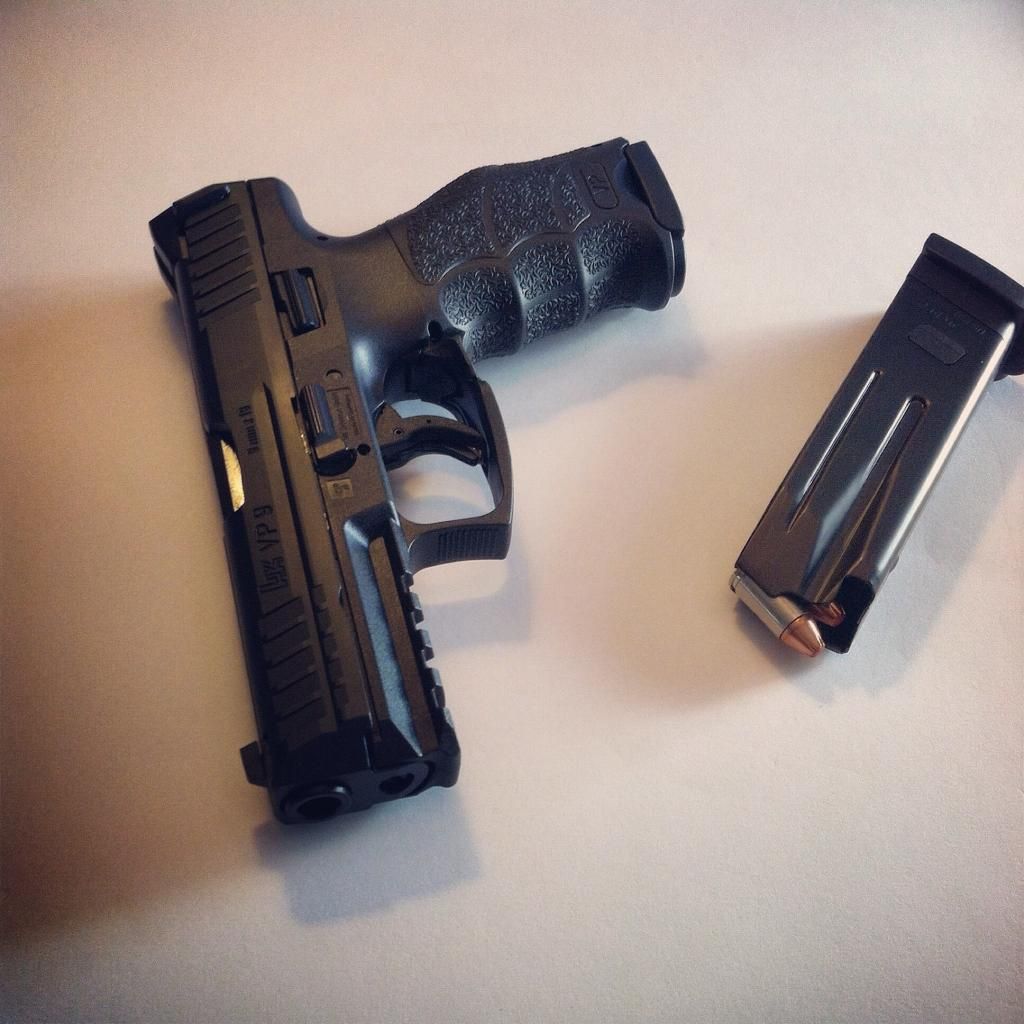 Unlike so many other handguns, the VP9 truly comes out of the box ready to go. To start with, the gun is completely ambidextrous. Being left handed I managed to run my Glock 19 without much of a problem however its still nice to have ambi mag and slide releases. The VP9s grip is also adjustable which caters to all different hand sizes. The side panels and back strap can be removed and replaced with small, medium, or large versions to get a custom grip just for you. The trigger is probably the greatest feature of this gun with a nice take up and reset and a crisp break right around 4.25-5 LBS.
The slide also has great features such as front and rear cocking serrations and a charging assist. The charging assist at first looked a bit odd however the tabs on either side of the slide are nice for extra grasp. Lastly the slide is topped with a nice set of steel glow in the dark sights.
Unfortunately I don't have more than a couple hundred rounds through it but so far it has ran without a hiccup and is very accurate. My first 5 round group out of the gun at approximately 10 yards was under 2 inches. I am also on the hunt for an appendix IWB holster and will update with further thoughts once I get some more range time.
Lastly I Just want to hit on size and other handguns on the market. This is a full size handgun and can mostly be compared in size to the Glock 17 and Walther PPQ. I believe the VP9 has an edge on the Glock for a couple reasons. One being that by the time you upgrade the Glocks sights you are at the same price point as the VP9. Another reason being that Glock has been having ejection issues with there newer models.
I also feel like H&K made smart steps that will lead to the VP9 being more successful than the PPQ. I handled a PPQ out of state about a year ago and remember the trigger was amazing. I will not comment on which trigger is better due to the time between handling them however there are reasons why I feel the VP9 is a better choice. Walthers biggest problem was bringing out 2 of the same model pistols with different magazine release systems. While I agree more options are great for people with different preferences (paddle vs button), however they totally shot them selves in the foot when they made the magazines not interchangeable between the 2 models! H&K made an excellent business decision when they made the VP9 take the same magazines and sights as their SA/DA pistol the P30.
I Hope this little insight was useful to some of you and I will keep you guys updated as I get more rounds through it. I am by no means an expert and in no way mean to insult any other firearm manufacturers so please dont take it as a bash to any others.