Discussion Starter
·
#1
·
hey dudes. question; has anyone found a good way to get wood stain off of metal parts?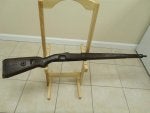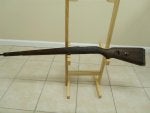 The above pics are of a Mauser stock I acquired recently, for a k98 Mauser restoration project I have going (related thread in Curio & Relic sub-forum here on NYF).
Someone, post-war, decided it would be a good idea to put some dark stain on the stock (roll eyes). In addition to that bright idea, they did not remove any of the metal parts. As such, the bolt take-down disc, butt plate (not pictured), recoil lug & bayonet lug all have a dark brown, rusty look.
I hit the butt plate with some Eezox, and a tiny bit came off. Obviously, something more is required. Thoughts, ideas, suggestions?
Thanks in advance.