Discussion Starter
•
#1
•
Listing this here as well as ebay as usual, but price here will be lower than on ebay for the two. First is an Alpinestars leather RC-1 Jacket size 46 US. No rips or tears and still in great condition. Has original liner and both have only ever been professionally cleaned. Has all original armor in it as well. THIS JACKET HAS NEVER TOUCHED THE GROUND OR BEEN CRASHED IN!!! As far as fit on the jacket I am 5'10 180lbs and the jacket is perfect on me. Not too tight nor too loose.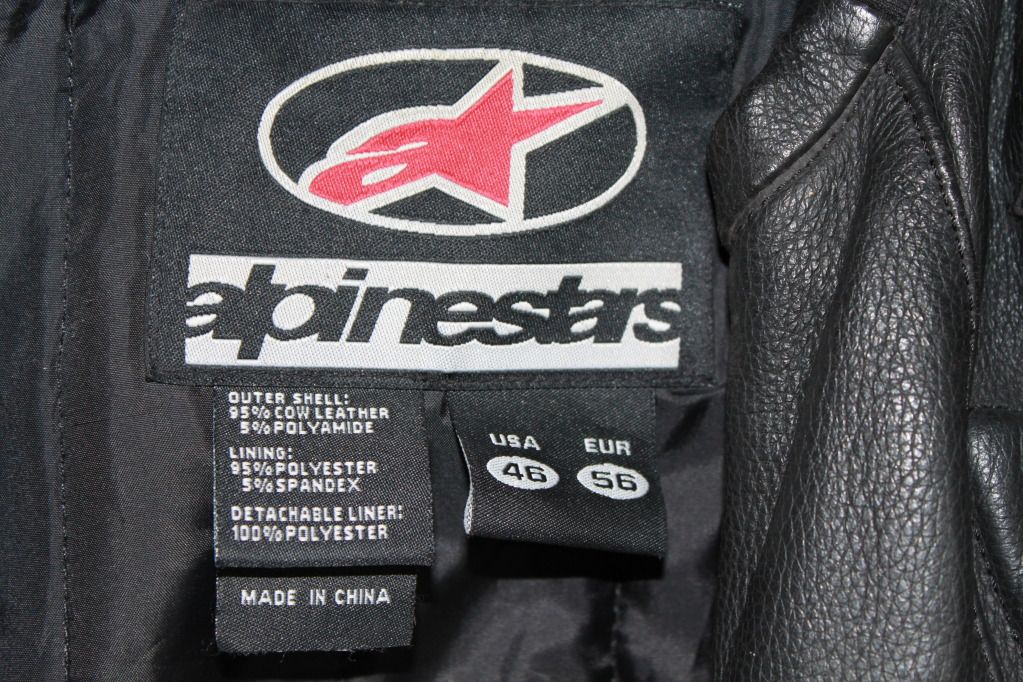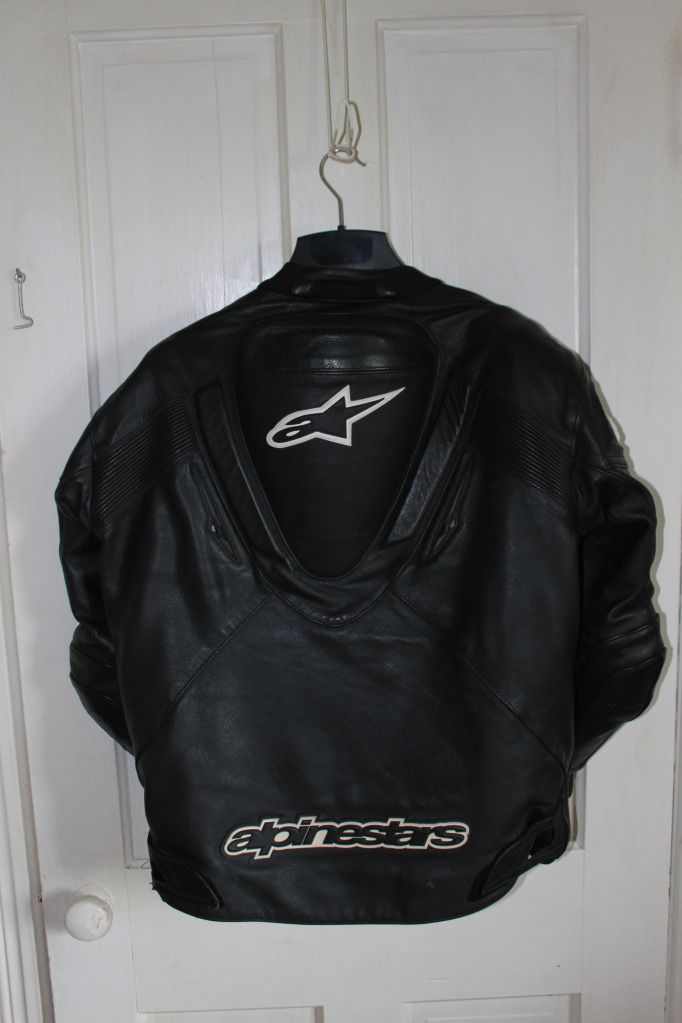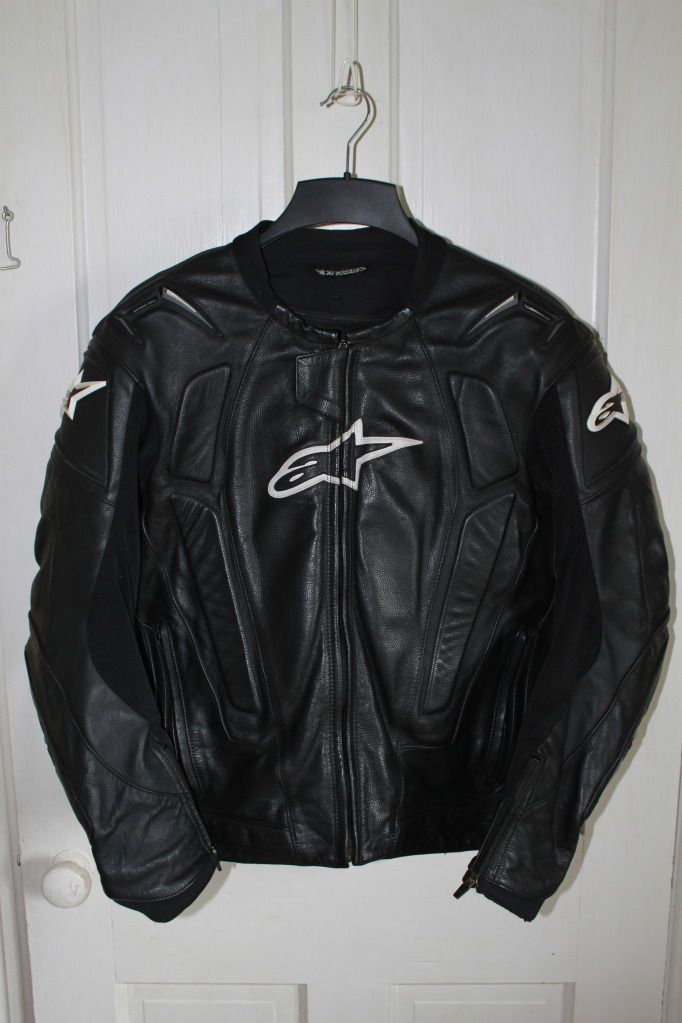 Here is more about it:
Description
Shell/Liner:
1.2-1.4mm full-grain leather for excellent abrasion resistance
Pre curved sleeves for optimal comfort
Strategically placed micro perforated leather
Ergonomically placed accordion stretch panels and stretch panel insert for optimal fit
Aerodynamic hump
Waist connection zipper allows attachment to selected Alpinestars leather pants
YKK Semi Auto Lock zippers
Adjustable waist
Removable thermal vest
Die Cut logos TPR logos and details
Soft collar with padded mesh insert
Soft wrist cuff construction
Safety:
Removable CE approved GP elbow and shoulder protectors
External foam padding
Chest padding pocket with foam chest pad
Multiple stitched main seam construction for maximum tear resistance
Back protector compartment with a foam back pad
Pockets:
Two large external waist pockets with YKK zippers
Certifications/Warranty:
CE-certified armor
Next is a Shoei TZ-R Obelisk Helmet size XL. Has a few nicks from use over 2 years but HAS NEVER BEEN DROPPED NOR WAS IT EVER CRASHED IN! Visor is in great condition as well and overall helmet still has quite a few years of use ahead of it.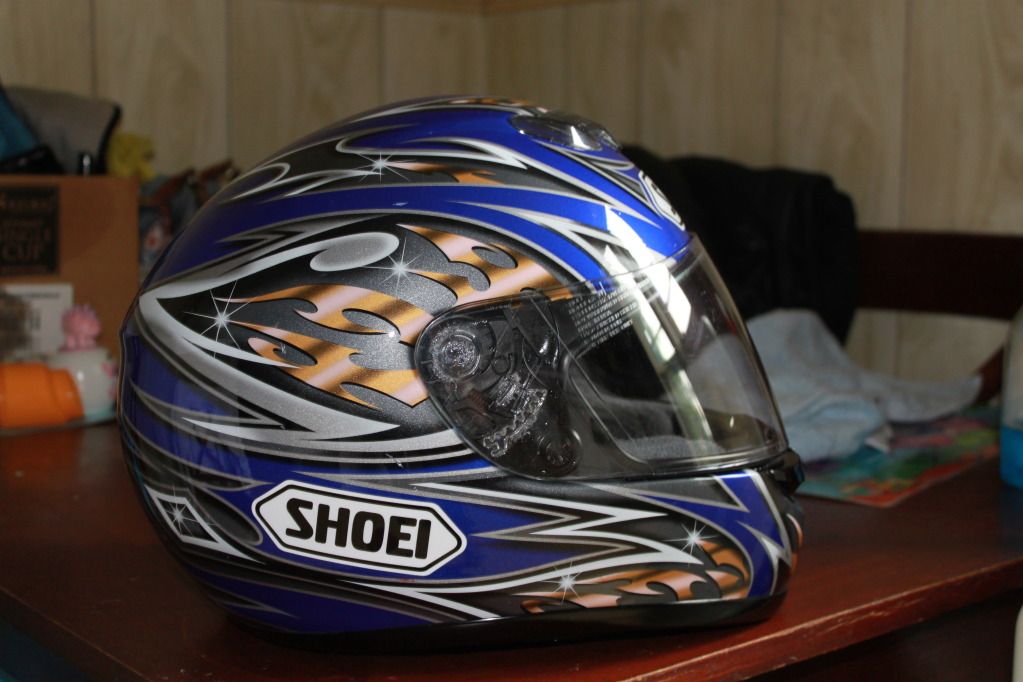 Here is more about it as well:
Snell M2000 and DOT certified
Aerodynamic shell design is the product of extensive wind-tunnel testing and feedback from professional riders
Shell constructed from lightweight, Advanced Integrated Matrix (AIM) high-performance fiber materials are combined with extremely elastic organic fibers to create a shell structure that is ultralightweight, rigid and resilient
Two-layer EPS Liner System offers unmatched ventilation with internal channels and exhaust ports throughout the helmet
Integrated Upper Air Intake minimizes air turbulence and maximizes air stream
Lower air intake provides an additional source of air flow; neck exhaust outlet
Lower air intake also provides airflow that helps to diminish shield fogging
3-D interior liner is ergonomically designed to offer safety, fit and comfort
Entire interior lining (cheek pads, upper liner and chin strap covers) is easily removed to allow for cleaning
Quick-Release Base Plate (Q.R.B.P.) allows tool-less shield removal
Wide, three-dimensionally curved shield offers increased peripheral vision and optical clarity; scratch-resistant coating
A preset lever locks shield in place to prevent unexpected opening
Medium helmet weighs 3 lb., 3oz.
Comes with clear face shield
I am looking for $325.00 for both plus $25.00 shipping due to the box size and weight. I'm listing them on ebay starting at $335.00 with $25.00 shipping so I really don't want any low ball counter offers. I paid over $500.00 new on the jacket and paid $549.00 for the helmet new. That's over $1000.00 for the pair so there is no way $325.00 is unreasonable for them both!